Become a weSure Agent

And become the digital agent of tomorrow, today!
The Next Generation of BOP Insurance…Starts…Now.
Why are we sure that you're going to love weSure?
Let us count the ways.
The Fastest, Easiest, Simplest Paperless Purchasing Experience

Get Quotes & Policies in Minutes

Immediate Access to Certificates of Insurance

Flexible, Customizable Policies Tailored to Your Client's Business Needs

Efficient Processing Lets You Sell More Policies in Less Time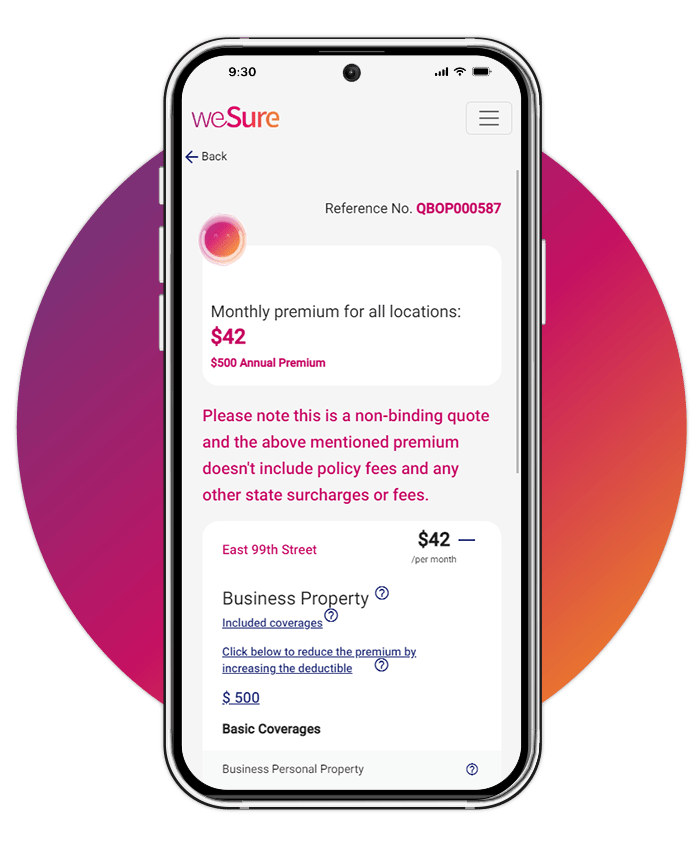 We Sure Are Fast…Want to See How Fast?
You can quote & bind with us in no time at all, watch this quick tutorial to see how.
Because Modern Businesses,
Deserve Modern Business Insurance.
At weSure, we deliver the best small business insurance to companies in a variety of business classes. Here are just a few:
Accounting Services
Apartments & Condos
Bakeries
Barber Shops
Bookkeeping Services
Clothing Retailers
Department Stores
Engineers & Architects
Fine Dining
Florists
Furniture Stores
Grocery Distributors
Home Improvement Stores
Interior Decorators
Interior Painters
Laundry & Dry Cleaning
Lawyers
Medical Offices
Nail Salons
Real Estate Agents
Sandwich Shops
Shoe Stores
Veterinarians
* WeSure Digital Insurance Services, Inc. ("weSure Digital") will provide a $500 Amazon gift card to the first 50 Qualified Agents (defined below) who are approved and get appointed as weSure agents (at its discretion and subject to its criteria) and issue at least 1 BOP policy with a minimum annual premium of $1,000 in the first 30 days from the time of their appointment with weSure Digital. To qualify for this gift card offer, an agent needs to have an existing book of business of at least 50 BOP policies ("Qualified Agent"). This gift card offer is valid only for the first policy issued by a Qualified Agent. Agencies and wholesalers qualify as one entry for this gift card offer (individual agents within agencies/wholesalers do not count as individual entries for this gift card offer). This gift card offer is applicable only to policies that are bound online with risks located in Ohio and only for eligible classes of business and for risks which are in full compliance with the eligibility requirements of weSure Digital that may reject any application to issue a policy at its discretion.
This gift card offer is subject to weSure Digital's Terms of Service and the execution of its Producer Agreement.
This gift card offer is valid from February 10, 2023 and it expires on April 30, 2023.