Small Business Insurance
Designed for You, By You.

We offer Business Owner's Policy (BOP) Insurance which delivers a-la-carte convenience that allows you to cover what you need, and nothing you don't.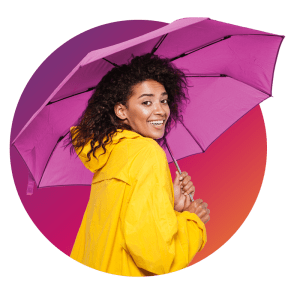 Want Protection for Every Rainy Day?
Better Bundle Up.
Our BOP Insurance combines general liability with commercial property insurance into one convenient and cost-effective package.
General Liability Insurance
The General Liability Section of our BOP package policy mainly covers the most common risks that affect today's small businesses, including:
Commercial Property Coverage
The Commercial Property Section of our BOP package policy mainly covers business goods, equipment, furniture or fixtures, inventory as well as damage to the structure of your property, including:
Additional Coverages You Can Add to Your Business Owner's Policy Insurance
There are a number of Additional Coverages that can be easily selected and added to your Business Owner's Policy as part of our online purchasing process, to help tailor coverage to your specific business needs. For each business type and occupation, the Additional Coverages are categorized into Recommended and Optional Coverages, and for each you can easily see the recommended limit amounts and the corresponding specific additional price.
Our most popular Commercial Property Additional Coverages include:
Our Most Popular General Liability Additional Coverages Include: